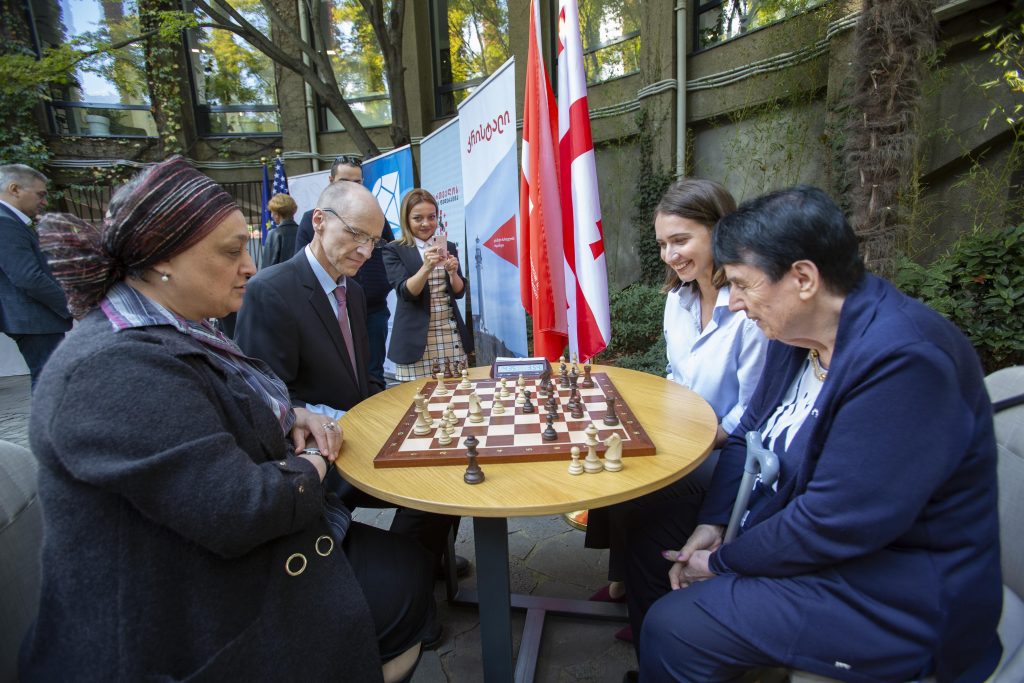 October 21, 2019, Tbilisi – Crystal Blitz Chess Game "All Women Are Champions!" was held in partnership with Georgia Chess Federation, which was dedicated to Crystal Fund and JSC MFO Crystal's women economic empowerment initiatives. This is part of a larger campaign, aimed at empowering entrepreneurial potential among Georgian women.
Participants of the event had opportunity to play blitz chess with World chess legends: Nona Gaprindashvili and Maya Chiburdanidze as well as Georgian National Women's Chess Team.
Also, Blitz Chess Game was played by international consultants of the technological company SAP SE, who are on a consultancy mission in Georgia to support development of women driven strategy and products.
In addition, product specifically designed for Crystal female clients was presented at event.
BACKGROUND:
Crystal is Georgia's leading non-bank financial institution, which manages 270 million GEL loan portfolio, employs more than 1,000 professionals and serves more than 100,000 unique clients across Georgia through a network of 50 branches. Crystal acts as a platform for economic development of thousands of customers, providing them with innovative financial products and services tailored to their specific needs.
Crystal is the first Fitch-rated non-bank financial institution in the region to be assigned a 'B' Rating with a Stable Outlook. It is also the first institution to issue corporate bonds worth of 15 million GEL, dedicated to women's economic empowerment. In 2018, the company won the nation's Responsible Business Award of Meliora 2018 as the Most Responsible Company of the Year 2018. In 2019, the company was also awarded with the prestigious CSR Award for the best practices of the gender equality principles – UN SDG #5 (Gender Equality). In May 2019 Microfinanza (MFR) rated Crystal with sA-.
Crystal Fund is a non-governmental organization that implements civic initiatives, including the YES-Georgia program, which will soon launch a new component of women's economic empowerment with the support of President Trump's Global Development and Welfare (W-GDPI) initiative.
Yes-Georgia program ("Support Youth Entrepreneurial Skills for Advancing Employability and Income Generation in Georgia'') is being implemented by Crystal Fund with financial support of USAID, in partnership with the Financial Inclusion Organization "Crystal" and Junior Achievement. In order to create a women specific product for YES-Georgia program, Crystal Fund and JSC MFO Crystal, together with SAP SE and PYXERA Global, are developing a strategy for the advisory Arm that will help women get hands on advising and counselling in various aspects of entrepreneurship to scale-up their economic and social advancement.SAP SE is a multinational software corporation that makes enterprise software to manage business operations and customer relations. PYXERA Global is an international organization, dedicated to navigating challenges and pinpointing purposeful global engagement opportunities).