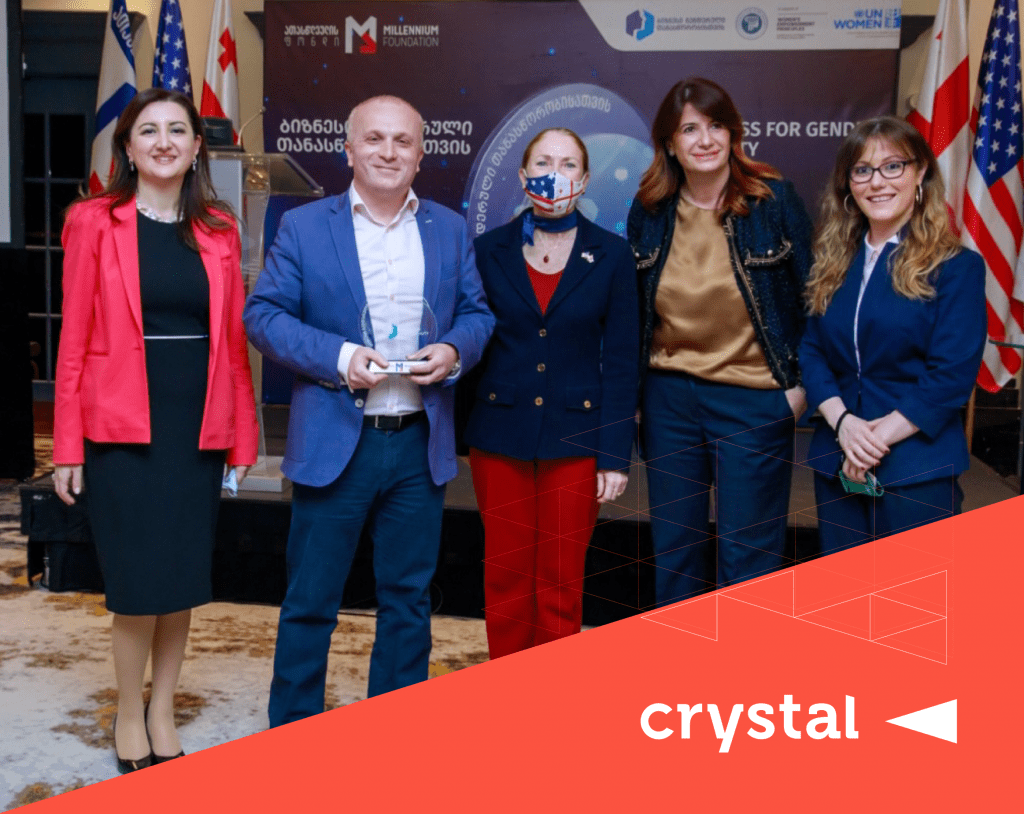 On March 25, Crystal was announced the winner of "Business for Gender Equality 2020" competition, hosted by the Millennium Foundation in partnership with the UN Women and the Business Leaders Federation Women for the Future. The event served to honor Georgia-based companies, doing exceptional job to promote gender equality and empower female employees and clients.
For purposes of the competition, JSC MFO Crystal had submitted its ongoing projects in the field of gender equality and women empowerment.It is noteworthy that the company has integrated the Sustainable Development Goals into its strategic plan, with Sustainable Development Goal / SDG # 5 – Gender Equality being one of them. In addition, Crystal had presented a female employee mentoring program, implemented in partnership with the UN Women.
Through application forms and in-depth interviews, E&S Officer Maya Kobalia introduced the competition committee, bringing together representatives of international and local organizations, public, non-governmental and private sectors, to the activities of Crystal in the field of gender equality and women empowerment, including the program "Supporting Youth and Women Entrepreneurs in Georgia" (USAID YES-Georgia) and its components: trainings aimed at developing personal and entrepreneurial skills among women under "Buzz Georgia" and Crystal Young Entrepreneurs School".
Since June 2020, Buzz Georgia has enabled more than 500 women to enhance their self-confidence, engage in networking and improve financial management and entrepreneurial skills.
About the competition:
The annual competition "Business for Gender Equality" was launched in 2016 by Millenium Foundation with a view to promoting Women Empowerment Principles (WEPs) of UN Women and UN Global Compact in Georgia.
More than 150 companies have participated in the competition over the last four years. The previous year's winners include banks, universities, insurance and telecommunications companies, hotel and construction industry representatives, wine producers, technology and energy organizations.