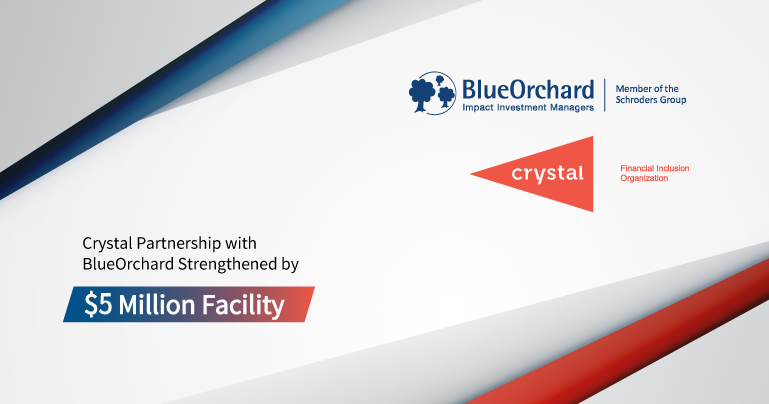 Tbilisi/Zurich: Financial Inclusion Organisation Crystal has strengthened their longstanding partnership with Swiss Impact Investment Managers BlueOrchard with a new $5 million investment to support Crystal's innovative financial services for micro entrepreneurs and farmers throughout Georgia.
The new loan injection is demonstrative of the continued solid and impactful partnership between the two financial institutions at a point when several investors are taking an increasingly cautious approach to risk management in light of the COVID-19 pandemic. The facility will support Crystal's provision of essential financial services to vulnerable micro-entrepreneurs during the crisis, including increased access to credit products, liquidity to finance working capital, and targeted business consultancy.
The unstable global investment climate reinforces the need for this leadership from impact investors and the microfinance sector. Microfinance institutions have a critical role during the crisis period as their extensive network outreach in rural communities expands support to vulnerable sectors. The new facility is a timely recognition of the importance of Crystal's work as Georgia's leading microfinance institution. The proceeds of this fund will be directed towards the promotion of sustainable economic recovery that can guarantee the restoration of stable businesses and productive employment.
Since 2014, Crystal and BlueOrchard have successfully completed multiple senior loan transactions. This strengthened collaboration is a decisive step towards both organisations' shared priorities of improved financial inclusion and entrepreneurial development across Georgia, despite the increasingly conservative global investment climate caused by COVID-19.
Normunds Mizis, Chief Credit Officer at BlueOrchard, commented: "We have been working with Crystal for a number of years and have developed a strong partnership with them in this time. This additional funding is testament to our conviction in Crystal's mission to provide essential services to micro entrepreneurs and farmers across Georgia. As impact investors, we firmly believe that it is during challenging times that these individuals need continued access to financial and other related services, and are proud to have been able to continue working with Crystal to provide this access in recent times."
Ilia Revia, Chief Executive Officer of Crystal comment: "It is incredibly encouraging that BlueOrchard has chosen to boost their partnership with Crystal in this critical period, as many of international funders opt to wait until the end of the COVID-19 pandemic is in sight to act. We are grateful to BlueOrchard for this valuable show of faith in our efforts to combat the unprecedented economic conditions created for everyday Georgians. This new investment will support our work to promote economic stability and recovery for our vulnerable clients."
BlueOrchard:
BlueOrchard is a leading global impact investment manager. The firm is dedicated to fostering inclusive and climate-smart growth, while providing attractive returns for investors. BlueOrchard was founded in 2001, by initiative of the UN, as the world's first commercial manager of microfinance debt investments. Being an expert in innovative blended finance mandates, the firm is a trusted partner of leading global development finance institutions. With a major global presence and offices on four continents, BlueOrchard has invested to date more than USD 6bn across 80 emerging and frontier markets, enabling tangible social and environmental impact.
BlueOrchard Microfinance Fund:
The BlueOrchard Microfinance Fund (BOMF) is the first private and fully commercial microfinance fund worldwide with the longest track record in the industry. To date, 18 million micro-entrepreneurs across 50 countries have been reached by microfinance institutions funded by BOMF providing loan capital, savings, insurance and related products to low-income households.
Crystal:
JSC MFO Crystal ('Crystal') is Georgia's leading financial inclusion organization and its largest by assets non-banking financial institution. It manages a loan portfolio of GEL 315 million, employing more than 1,000 members of staff, operating through 47 branches and serving more than 100,000 unique customers across Georgia. Crystal acts as a development platform for its customers, providing micro and small entrepreneurs and farmers with innovative financial products and services. Crystal is the first Fitch-rated non-banking financial institution in the region with a rating 'B' Stable Outlook. In December 2018, Crystal received Georgia's national responsible business award, "Meliora".