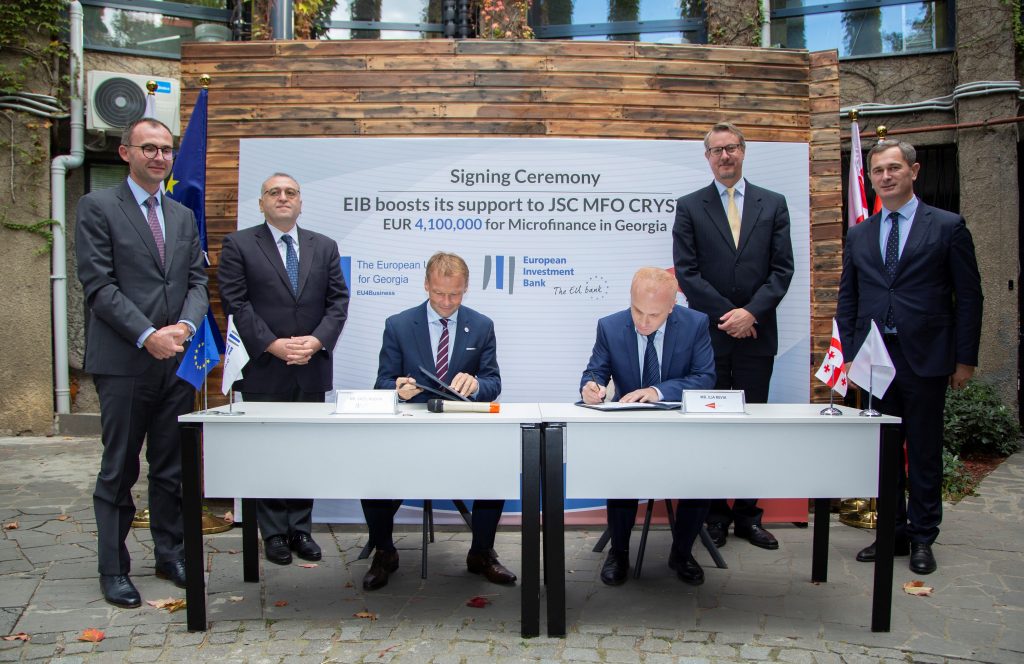 Tbilisi/Luxembourg, 30 October 2019 – EU4Business: EIB and JSC MFO Crystal support microenterprises in Georgia through a new financing operation
EIB loan is expected to improve access to finance for around 10,000 micro-entrepreneurs, women, young and disadvantaged people living in rural areas will benefit most second EIB Group microfinance operation in Georgia.
The European Investment Bank (EIB) is providing a US dollar loan worth the equivalent of up to EUR 4.1m to JSC MFO Crystal, a leading microfinance company in Georgia. This operation will fund micro enterprises with fewer than 10 employees. They will receive loans of up to EUR 25,000 that are geared towards women, young people and entrepreneurs living in rural areas. The operation is expected to provide around 10,000 entrepreneurs with better access to long-term financing.
The operation will support the priorities of the EU and the Georgian Government, which are aiming to develop the private sector and increase financial inclusion in Georgia. It will contribute to ensuring sustained, inclusive and long-term economic growth, full and productive employment and decent jobs. This is the second EIB microfinance investment in Georgia after November 2017. Both operations fall under the framework of the EU4Business initiative, and they are partially financed by the Neighbourhood Investment Facility of the European Union.
EIB Vice-President Vazil Hudák commented: "This microfinance operation will support microbusinesses, representing the most vulnerable segment of the Georgian economy. This type of funding is in high demand not only in Georgia but also in the wider region; it helps entrepreneurs to develop their activities, which ultimately boost the economy and general wellbeing in the country."
EU Ambassador to Georgia Carl Hartzell stated: "So far over 30,000 Georgian businesses have benefitted from EU-financed advice, funding or technical assistance, as part of our support to small medium enterprise development. Today's partnership with JSC MFO Crystal aims at assisting an additional 10,000 local entrepreneurs to start and develop their businesses and create additional income and jobs in the country. We wish them every success and remain committed to supporting the private sector in Georgia."
Crystal CEO Ilia Revia commented: "We are delighted to start promising and long-term cooperation with the European Investment Bank. Crystal has signed an important agreement, which aims to reach and support local entrepreneurs and consists of the financing of micro and small enterprises operating in Georgia. In collaboration with the EIB, Crystal will effectively move forward in our mission of becoming a platform for the development of Georgia's micro-entrepreneurs and farmers."
Background information:
About EIB:
The European Investment Bank (EIB) is the European Union's bank. It is the long-term lending institution of the EU and is the only bank owned by and representing the interests of the European Union Member States. It makes long-term finance available for sound investments in order to contribute towards EU policy goals. The EIB works closely with other EU institutions to implement EU policy.
As the largest multilateral borrower and lender by volume, the EIB provides finance and expertise for sound and sustainable investment projects which contribute to furthering EU policy objectives. More than 90% of EIB activity is focused on Europe but it also supports the EU's external and development policies.
The EIB Group has joined forces with the European Union under the Deep and Comprehensive Free Trade Agreement (DCFTA) Initiative East Programme designed to strengthen economic development in the countries which have signed Association Agreements with the EU – namely Georgia, Moldova and Ukraine – by providing financial and technical support targeted at SMEs in these three countries.
About EU4Business:
EU4Business is an EU initiative that helps SMEs in the six countries of the Eastern Partnership (Armenia, Azerbaijan, Belarus, Georgia, Moldova and Ukraine) to finance their development and boost economic growth. EU4Business support is delivered by the EIB together with other organisations outside the EU such as the European Bank for Reconstruction and Development. All EU activities that support SMEs in the Eastern Partnership countries are part of EU4Business. The EIB has joined forces with the European Union to strengthen economic development in the countries that have signed Association Agreements with the EU – namely Georgia, Moldova and Ukraine – by providing financial and technical support targeted at SMEs in these three countries.
About JSC MFO Crystal: JSC MFO Crystal ("Crystal") is the leading financial inclusion organisation and the largest (by assets) non-banking financial institution in Georgia. It manages a loan portfolio of GEL 270 million, employing more than 1,000 members of staff, operating through 62 branches and serving more than 100,000 unique customers across Georgia. Crystal acts as a platform for economic development, providing micro and small entrepreneurs and farmers with innovative financial products and services tailored to their needs. Crystal is the first Fitch-rated non-banking financial institution in the region with a rating of 'B' stable outlook. In December 2018, Crystal received the nation's responsible business award, "Meliora".