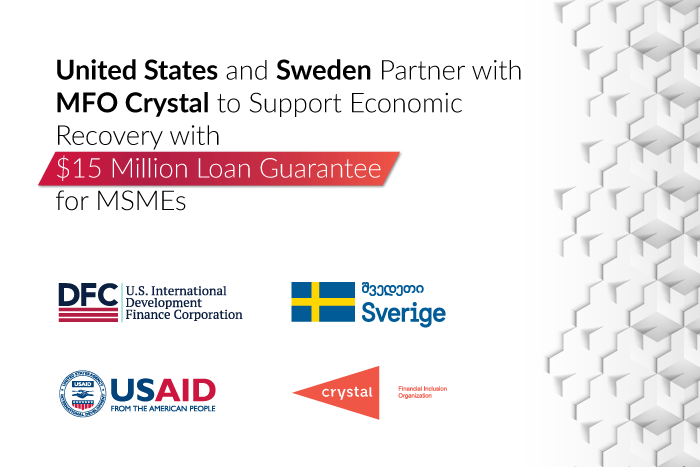 Tbilisi/Washington/Stockholm, 13 November 2020 – United States and Swedish Governments Partner with MFO Crystal to Support Economic Recovery from COVID-19 Through Loan Guarantee Program.
On September 28, the Development Finance Corporation (DFC), the Swedish International Development Cooperation Agency (Sida), the United States Agency for International Development (USAID), and JSC MFO Crystal (Crystal) jointly announced a loan guarantee program to support Georgia's private sector to recover from the COVID-19 pandemic. The program, facilitated by USAID, will allow Crystal to issue $15,000,000 in U.S. and Swedish-guaranteed loans to more than 5,000 Georgian micro-, small-, and medium-sized enterprises (MSMEs).
The initiative represents Crystal's first engagement in a loan guarantee program with international donor organizations. The large-scale guarantee will allow Crystal to diversify its offering of financial products to meet the complex needs of Georgian MSMEs during and after the COVID-19 pandemic. Crystal will focus on lending to underserved borrower groups including women-owned business, startups, and businesses located outside of major urban centers, stimulating economic growth in Georgia's regions.
The guarantee has a tenure of eight years, acting as both a rapid response mechanism to help Georgian businesses return to growth amidst the disruption of the COVID-19 pandemic and a long-term partnership between the U.S. and Swedish governments and Crystal to support enterprise-led development in Georgia.
James Polan, Vice President of Development Credit at U.S. International Development Finance Corporation (DFC), commented: "Micro and small enterprises are the backbone of the Georgian economy, and they have been deeply impacted under the pandemic. In conjunction with USAID and Sida, DFC is proud to play a role supporting Crystal through a loan guarantee program designed to advance the economic recovery efforts in Georgia."
Embassy of Sweden, Head of Development Cooperation, Erik Illes commented: "Our partnership with USAID and Crystal came at a very important time. We are joining forces amid the COVID 19 crises to reduce its impact on the Georgian private sector. Sweden aims to contribute to poverty reduction in Georgia, directly and indirectly by sustaining and generating jobs in small companies in all corners of Georgia. Improved opportunities of access to finance will be available through our partner MFO Crystal. The program will have a special focus on underserved borrower groups, including women, start-ups and those outside of the major urban centers"
USAID/Georgia Mission Director Peter Wiebler commented: "This new partnership will help Georgian entrepreneurs get back on their feet and spark a post-COVID economic recovery. The guarantee advances one of the key goals of USAID's new strategy for Georgia: empowering the private sector to develop new products and innovative methods for doing business, create higher-value jobs, and contribute to long-term economic growth that benefits all Georgians.
Crystal CEO Ilia Revia commented: "We are honored to be the recipient of this facility in Georgia. The decision by DFC and Sida to choose Crystal as a partner in providing a rapid response mechanism which is backed by the Governments of the United States and Sweden, is another proof of support to our country's Covid-19 affected economy. Crystal strives to provide the assistance Georgia's entrepreneurs require to build sustainable businesses. This new partnership in form of USD 15 million loan guarantee program will further enhance our support of micro and small businesses with innovative financial products and advisory services. This transaction also emphasizes continued international belief in Georgia's microfinance sector during the COVID-19 pandemic."
Background information:
About DFC: U.S. International Development Finance Corporation (DFC) is America's development bank. DFC partners with the private sector to finance solutions to the most critical challenges facing the developing world today. We invest across sectors including energy, healthcare, critical infrastructure, and technology. DFC also provides financing for small businesses and women entrepreneurs in order to create jobs in emerging markets. DFC investments adhere to high standards and respect the environment, human rights, and worker rights.
About Sida in Georgia: The Swedish International Development Cooperation Agency, Sida, is a government agency that works on behalf of the Swedish Parliament and government. Sweden supports Georgia's reform efforts to strengthen its ties with the European Union through increased economic competitiveness, strengthened democracy and improved environmental performance.
About JSC MFO Crystal: JSC MFO Crystal ("Crystal") is the leading financial inclusion organization and the largest (by assets) non-banking financial institution in Georgia. It manages a loan portfolio of GEL 315 million, employing more than 1,000 members of staff, operating through 48 branches and serving more than 100,000 unique customers across Georgia. Crystal acts as a platform for economic development, providing micro and small entrepreneurs and farmers with innovative financial products and services tailored to their needs. Crystal is the first Fitch-rated non-banking financial institution in the region. In December 2018, Crystal received the nation's responsible business award, "Meliora".
About USAID in Georgia: As the leading development agency of the U.S. Government, USAID supports Georgia to build the capacity to plan, finance, and implement its own solutions to development challenges. USAID has worked in Georgia since 1992, supporting the country's transformation into a developing democracy that is increasingly integrated into Western political, security, and economic institutions. More than 35 USAID programs strengthen Georgia's resilience to malign influence, consolidate democratic gains through enhanced citizen responsive governance, and enable high-value employment through increased economic growth. For more information, please visit: www.usaid.gov/georgia.